Legends Show Thursday October 20 2022 at 7:00 PM ADT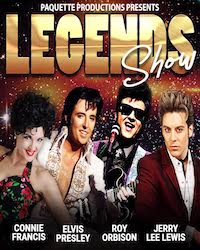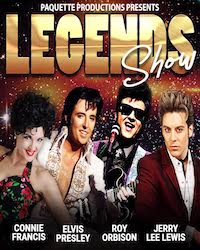 You've selected
Thursday October 20 2022 at 7:00 PM ADT
×
Legends Show – Tributes to the Music of the 50s & 60s, Connie Francis, Roy Orbison, and Elvis Presley
Presented by Paquette Productions
Thursday, October 20, 2022 at 7pm
Tickets: A Seating - $57 | B Seating - $51 | C Seating $46


ONE NIGHT ONLY! "Legends Show" bring you some of the world's most exciting performers live on stage. Accompanied by the "Rockin' Royals Band", this show will feature incredible tributes to music hits from the 50s and 60s (Pete Paquette), Connie Francis (Amberley Beatty), Roy Orbison (Jesses Aron), and Elvis Presley (Pete Paquette).


Pete Paquette: Dance and sing to some of the biggest hits from the 50s and 60s with Pete Paquette singing the music from The Temptations, Frankie Valley and the Four Seasons, the Righeous Brothers, The Beatles, and many more favourites.


Connie Francis: Canada's Tribute Queen, Amberley Beatty, returns to the stage with her truly remarkable tribute to American Pop Singing Icon, Connie Francis. Idolized by millions of fans around the world, Francis is best known for her hits such as 'Where the Boys Are', 'Who's Sorry Now', 'Your Cheatin' Heart', 'Stupid Cupid', and 'Lipstick on Your Collar'.


Roy Orbison: Jesse Aron, who hails form the state of Wisconsin, is recognized as one of USA's top Roy Orbison tribute performers. With his effortless voice and uncanny resemblance to Roy, his portrayal of 'The Big O' will leave you mesmerized. Jesse will take you back in time with such hits as 'Crying', 'Pretty Woman', 'Only the Lonely', 'Running Scared', and many more of your favorites.


Elvis Presley: Pete Paquette is a World-class Elvis Tribute Artist that is in great demand and is highly regarded as one of the top Elvis performers in the business today. Known for captivating his audiences through his incredible voice, high energy, charisma, and playful spontaneity with his audiences, this multi-award winning performer will leave you wanting more.

Venue
Irving Oil Auditorium - Imperial Theatre
12 King Square South
Saint John NB E2L 5B8