Crash Test Dummies Friday, November 17, 2023 at 7:30 PM AST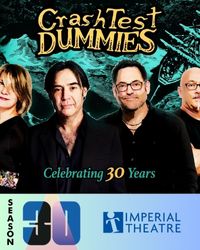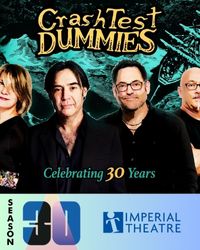 You've selected
Friday, November 17, 2023 at 7:30 PM AST
×
Crash Test Dummies
Friday, November 17, 2023 at 7:30pm
Tickets: $60 adult / $55 member
Description: In November the Crash Test Dummies will bring their never-before-toured holiday release to Canadian and American audiences. The record, released in 2002 and recorded at the world famous "The Magic Shop" in New York City was best described by prominent American journalist MarOn Keller. "There's more than a bit of delightful holiday camp and irony afoot in the Crash Test Dummies' Jingle All the Way collecOon, from Brad Roberts' slow-mo delivery of "White Christmas"-with its heavy Hammond Organ-to Ellen Reid's Patsy Cline take of "O LiYle Town of Bethlehem," done in a convincing country-western style complete with pedal steel guitar. SOll, there's serious business in the group's take on "We Three Kings" with the genuine Oriental influence of Ming Xioo-Fen's pipa playing, and Reid's readings of the traditional songs "The Huron Carol" and "In The Bleak Midwinter" are as reverent as standard Christmas songs get. Roberts' basso profoundo, on the other hand, is an acquired taste and he puts it to wickedly good use in "Jingle Bells," which is delivered like a medieval chant or rugby cry that's certain to put the fear in jolly old St. Nick." The dynamic and engaging stage show will feature original members Brad Roberts, Ellen Reid, Dan Roberts and Mitch Dorge who will be joined as always by Stuart Cameron and relative newcomer, Leith Fleming-Smith, delivering songs from Jingle All The Way along with some ofthe bands greatest hits! "Jingle All The Way" will be available on vinyl for the first time and will be made available on streaming services.
In 2018, 25 years after the release of their multi-Grammy nominated hit album "God Shuffled His Feet", The Crash Test Dummies hit the road for the first time in 20 years with an Anniversary Tour that spanned North America. The overwhelming reception led to a 30th Anniversary Tour in 2022 for their debut release "The Ghosts That Haunt Me" that touched down in the US, UK, Germany, Austria, the Netherlands, Luxembourg, and Canada.
And the band is showing no signs of slowing down…
"Touring again was not something we'd planned on, but surprisingly - at least to me - there are lots of people who many years later, still want to come and hear us. The folks that are coming out to see these shows tell us their stories, some of them very funny, some very dark and all very personal. It's very humbling, being in the confidence of so many people" says lead singer-songwriter Brad Roberts, "and it has inspired us to continue to tour and make music."
Early 2023 will see the release a new, original Crash Test Dummies single "Sacred Alphabet" as they again hit the road in North America and Europe.
Venue
Irving Oil Auditorium - Imperial Theatre
12 King Square South
Saint John NB E2L 5B8
Performance Notes
Imperial Theatre Season 30 Series: IT Member pricing applied at checkout