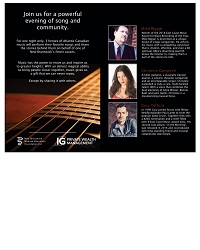 Songwriters Circle
When
Occurs on Thursday October 11 2018
Approximate running time: 2 hours
Venue
Performance Notes
×
New Brunswick Medical Education Foundation
Songwriters Circle
Thursday, October 11, 2018 at 7:30pm
Tickets: $36.50


Join us for a powerful evening of song and community

- Mike Biggar Winner of the 2018 East Coast Music Award for Blues Recording of the Year: Mike Biggar is described as a unique breed of singer-songwriter. He unfurls his music with a compelling conviction that is distinct, effective, and even a bit spiritual. Mike's disarming warmth draws the listener in, making them a part of the stories he tells.

- Christine Campbell a killer guitarist, a classically-trained pianist, a sincere, dynamic songwriter and an incomparable singer; Christine Campbell is truly a rare, multi-faceted talent. With a voice that combines the best elements of Anne Wilson, Bonnie Raitt and Janis Joplin, Christine is a mesmerizing, musical force.

-Cory Tetford In 1999 Cory joined forces with fellow Newfoundlander Paul Lamb to form the popular band Crush. Together they own a JUNO nomination and a shelf filled with 8 East Coast Music Award wins. His second solo album, "In the Morning", was released in 2016 and co-produced with long-standing friend and musical collaborator Alan Doyle.