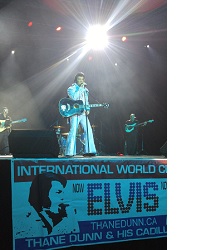 Elvis Rock & Country
When
Occurs on Thursday January 10 2019
Approximate running time: 2 hours
Venue
Performance Notes
×
Thane Dunn's Elvis Rock & Country Thursday January 10, 2019 at 7pm Tickets: VIP $55, Orchestra $40, Blacony $34.50
World Champion Thane Dunn's new Elvis Rock and Country Saint John's favourite tribute to the King of Rock and Roll is finally returning with a brand new show that's been called his best yet.
Elvis Rock and Country features a fast paced electrifying trip down memory lane with Elvis Rock songs that you all know and love with lots of surprises. Plus some of the Kings most beloved Country songs such as "Always on My Mind" , "Kentucky Rain" and many more performed by the best in the business. Thane Dunn has the uncanny ability to make audiences feel as if they are watching the real thing live.Even Bill Baize of the Stamps Quartet who performed onstage with Elvis from 1971-76 says "Thane Dunn is the closest thing I've ever seen to Elvis and if you never saw Elvis you need to see Thane Dunn" He is a 2 time World Champion and does not disappoint .If you love Elvis,Real Country and having fun this is a don't miss event.
Special opening act the Rhinestone Cowgirl Crowds have been raving about Melanie Dunn's amazing over the top vocals,movie star good looks and costumes that will take you back to the good old days when real Country music was alive and well. Her tribute to the Queens of Country Music,Loretta Lynn,Patsy Cline and Tammy Wynette will make the hair stand up on the back of your neck she is that good.From "Crazy" to "Stand By Your Man" you'll hear all the hits you know and love from the lil lady with the big voice.
For the first time there will be a special VIP pre show meet and greet premium seating tickets.