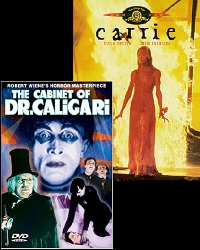 Retro Film Halloween Double Feature
When
Occurs on Monday October 28 2019
Approximate running time: 2 hours
Venue
Event Notes
×
Retro Film: Halloween Double Feature
The Cabinet of Dr. Caligari (1920 + Carrie (1976) Monday, October 28, 2019 at 7pm
Tickets: $15
Description: Halloween Double Bill
The Cabinet of Dr, Caligari (1920) rated PG [76 min] The Imperial Theatre, Symphony New Brunswick and Resonance New Music presents the classic silent film The Cabinet of Dr. Caligari performed with live original music. This 1920 German film, directed by Robert Wiene and written by Hans Janowitz and Carl Mayer is considered the first feature-length horror film and a quintessential work of Expressionist cinema. The score is written by New Brunswick's Andrew Reed Miller and performed by the eight-member core musicians of Symphony New Brunswick. The Cabinet of Dr. Caligari tells the story of an insane hypnotist (Werner Krauss) who uses a sleepwalker to commit murders.
Carrie (1976) rated PG [98min]
Carrie is a 1976 American supernatural horror film directed by Brian De Palma from a screenplay written by Lawrence D. Cohen adapted from Stephen King's 1974 epistolary novel of the same name. The film stars Sissy Spacek as Carrie White, a seventeen-year-old diffident teenager who is the butt of practical jokes at high school. One day she discovers her possession of telekinetic powers and puts her powers to use when she is humiliated with pranks.