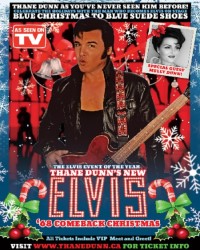 Elvis 68 Comeback Christmas Tour
When
Occurs on Saturday December 14 2019
Approximate running time: 2 hours
Venue
Event Notes
×
WORLD CHAMPION THANE DUNN'S Elvis 68 Comeback Christmas tour


For the first time, the 2-time World Champion is recreating Elvis Presley's now historic 68 Comeback Special which was aired 50 years ago on NBC. It was originally going to be a Christmas special so we have combined all your favorite songs from the program including Hound Dog, Heartbreak Hotel, If I Can Dream and more, and combined them with Elvis Christmas favorites Blue Christmas, Silent Night, to Elvis gospel greats Where No One Stands Alone and many more.

In the second half of the show we will showcase for the first time Thane's incredible ability to perform Country Classics that will blow your mind. Form Charlie Rich, Hank Williams to Jim Reeves. All the while, sharing the stage with the amazing Melly Dunn, her amazing three and a half octave voice will give you shivers and add a new dimension to your favorite Christmas Classic that you will love. Her Patsy Cline songs will amaze you and for the first time these two incredible talents will be performing duets together doing Elvis and Country Christmas classics the whole family will flip over.

For the first time all tickets include a VIP meet and greet with photo options.

Love Elvis, Great Music and having fun... then have we got the show for you and the entire family. Start the Christmas Season off with a bang. For more information on the tour, go to www.thanedunn.ca and please remember DON'T TEXT AND DRIVE.


Bill Baize, high tenor singer of the Legendary JD Sumner and the Stamp Quartet, who performed with Elvis from 1971-76, "He is the closest thing to Elvis I've ever seen and if you never saw Elvis, you need to see Thane Dunn."

Mark Critch, star of CBC's This Hour Has 22 Minutes, "Thane Dunn's tribute is as close to the real thing as you can get without dying. It's not only the best tribute show I've seen but one of the best concert experiences going. Elvis has not left the building."
CHECK www.thanedunn.ca for more information and other locations on the tour, and make sure to join our Fanclub for updates, contests and trips.