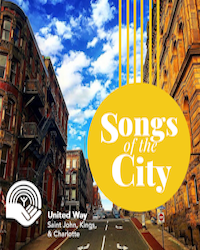 Songs of the City
When
Occurs on Thursday June 3 2021
Approximate running time: 1 hour and 15 minutes
Venue
Event Notes
×
Songs of the City
Thursday, June 3, 2021 at 2:00pm
Tickets: This event is a celebration of our community and admission is free. Everyone is welcome!


Songs of the City tells transformative stories of everyday people whose lives have been changed for the better because of the generosity of our community. Five individuals who have triumphed with the help of donations made to United Way Saint John, Kings & Charlotte are matched with local artists who will compose original songs based on these stories.


These five stories and songs will be presented on the stage of the beautiful Imperial Theatre.