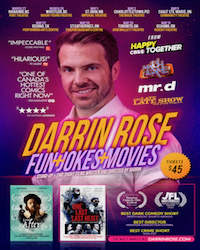 Darrin Rose: Fun + Jokes + Movies
When
Occurs on Sunday October 4 2020
Approximate running time: 2 hours
Venue
Event Notes
×
Darrin Rose: Run + Jokes + Movies
Sunday, October 4, 2020 at 8:00pm
Tickets: $45.00


From Mr. D and Match Game, comedian and actor Darrin Rose performs stand-up and screens his award-winning comedic short films Love After Anne and One Last Last Heist.


Darrin Rose is one of Canada's most popular comedians, and an award-winning writer, filmmaker and actor too! He played Bill on the long-running CBC sitcom Mr. D, hosted Match Game on the Comedy Network, and was a writer on the CBS sitcom Happy Together starring Damon Wayans Jr. He has appeared at Just For Laughs eight times, and twice on The Late Late Show on CBS. He was called "hilarious!" by TV Guide, and "one of the hottest comedians in Canada" by GQ magazine.


Darrin's first short film, Love After Anne, garnered a Best Actor nomination at the Houston Comedy Film Festival for star K. Trevor Wilson, from the hit show Letterkenny. His second short film, One Last Last Heist, stars Darrin and Suresh John from Mr. D. It has won awards at festivals in Los Angeles, Houston, and London, England. Both short films will play at the show!