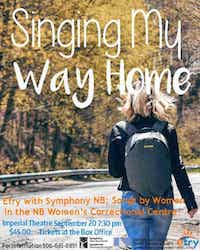 Singing My Way Home
When
Occurs on Sunday September 20 2020
Approximate running time: 2 hours
Venue
Event Notes
×
Singing My Way Home presented by the Elizabeth Fry Society of Saint John, NB
Sunday, Sept. 20, 2020 at 7:30pm
Tickets: $45
Incarcerated Women Bring Life Stories to Song and Music
Tthe Elizabeth Fry Society of Saint John (EFry), a non-profit organization that supports vulnerable, criminalized women and their children in New Brunswick communities to experience positive and healthy change, has announced that a public concert, Singing My Way Home, will take place at the Imperial Theatre.
Last year, EFry, with support from the National Arts Centre, offered songwriting workshops for women incarcerated at New Brunswick Women's Correctional Centre in Miramichi. The workshops were facilitated by New Brunswick singer/musician songwriters; Rachel Grant, Moon Joyce and Elders Cynthia and Constance Sewell. Women who participated in the workshops collaborated with each other, found creative ways to express thoughts and feelings through songwriting, and discovered safe ways to support and encourage each other. The women found this to be a very rewarding experience as reflected in their observations:
"I feel like we opened up, not just our thoughts but our hearts. We shared, not just our feelings we hide inside most of the time in here but opened our souls to each other on a deeper and more interpersonal level".
"I got to share my story and put it out into words which turned into a beautiful song for myself and others who maybe can't quite get their story out. They feel now like they might have hope and a chance".
"Songwriting allowed us to create and express ourselves together and empower us as women…From the first day, I have been inspired. I've learned music will always be a part of my everyday life and I've found I want to play the piano again when I go home".
The women of NBWCC produced 11 songs that were scored by Moon Joyce and Rachel Grant and early in 2020 members of the NB Symphony Andrew Reed Miller, Joel Cormier, Christie Goodwin along with Moon and Rachel returned to the institution to perform the songs for the women and staff. Women were encouraged to perform their own songs.
EFry is proud to present these songs performed by Moon Joyce and Rachael Grant with the Saint John String Quartet and members of the New Brunswick Symphony at the Imperial Theatre. Jessica Rhaye and Maggie Paul will add their singing voices to the concert which will take place September 20th at 7:30.
Please call (866) 301-8800 or email efry@nb.aibn.com for more information.
About EFry:
The Elizabeth Fry Society of Saint John is a non-profit organization that engages with its partners to support vulnerable and criminalized women so they can make positive choices for themselves and their children, support women who may face challenges in conflict with the law, listens and helps women who are incarcerated by providing necessary help when they are reintegrated into their communities. EFry focuses on education and advocacy, health and wellness, and individual services. Our work promotes community awareness, knowledge and understanding of the issues faced by women involved in the criminal justice system, and the conditions that may contribute to women being criminalized. We work with our community partners and community members as a whole to bring about social change, reform of the criminal justice system, and development of community alternatives to incarceration.