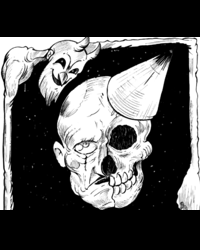 Doctor Faustus
When
Occurs on Friday November 13 2020
Approximate running time: 2 hours
Venue
Event Notes
×
Doctor Faustus
Friday, November 13, 2020 at 7:30pm
Tickets: $25 adults / $20 subscribers
Description: Doctor Faustus is an Elizabethan tragicomedy written by Christopher Marlowe sometime between 1589 and 1592. It is based on the historical legend of a German magician named Johann Georg Faust whose story remains a part of our collective culture as a cautionary tale about one man's desire to sacrifice his immortal soul in exchange for supernatural powers.

Drawing inspiration from Elizabethan, ancient Greek and post-modern theatre, Doctor Faustus has been rewritten and adapted for today's audience. Using elements from vaudeville, burlesques, minimalism/maximalism and absurdism, this story is reinvented as a modern fantasy while maintaining Marlowe's original themes on morality, the nature of evil, corruption of power, the seductive lure of darkness and the hope of redemption.

Doctor Faustus was workshopped under the Imperial Theatre's Incubation Project with the combined efforts of local amateur and professional artists. Special thanks to Nawal Doucette of Maritime Tribal Bellydance and Lifestyle, Amanda Ryall at Kickbasics Health Studio, Teagan Keith for stage-management, Drew Murdock for lighting design and Eric Braun for sound and effects.

About the artist


Matt Hamilton-Snow (Artist Bio)

Matt Hamilton-Snow was born and raised in Quispamsis New Brunswick and has been active in the local arts scene from a young age. Even though he has a love of all visual arts, his love of performance art came at a very early age.  Early in his educational career Matt has dabbled in painting, photography, fashion design and graphic design. He's been described by many as a "Jack-of-all-trades" having volunteered in marketing, set painting/design, costuming and stage management.

Prior to becoming a director, Matt wanted to explore every department in theatre from amateur to professional level. Drawing on skills and experience to inspire other performers and enhance his story-telling abilities, Matt volunteered with Saint John Theatre Company who provided many opportunities to direct short plays under the Script Happens program for local playwrights which focuses on the development of aspiring directors and actors. He has directed Wndrlnd by Allison House, Leading Ladies by Sandra Bell and Even Deer Fall Through by Ian Goff.

In 2017 Matt directed his first full length play in partnership with the SJTC called The Boys in the Band by Mart Crowley for Pride Week in Saint John. This particular play Matt had a passion for as it is a story of gay men in 1960s New York. One of the first of its kind as it tells a realistic view of what life was like for the LGBT+ community prior to the Stonewall riots. It is an intimate look at the inside lives of eight gay men at a birthday party and the growing tension of being closeted when an uninvited guest arrives and forces each character to come to terms with the reality of their lives.

Wanting to try directing theatre in every genre, Matt's next challenge was to take on the Bard. Having acted in many Shakespeare productions with Loyalist City Shakespeare including A Midsummer Night's Dream, As You Like It, Much Ado About Nothing and SJTC's Twelfth Night, Matt also has a love of fantasy which led him to Shakespeare's The Tempest which was staged in 2018. Drawing inspiration from Julie Taymor's motion picture and casting at Stratford's Shakespeare Festival, Matt decided to make choices to gender bend many characters with the resulting piece being somewhat of a feminist statement.

Many has also directed several short works by local playwrights that were featured in Fundy Fringe Festival. Glass Closets and Dani's White Lie by James McClure and Disappearance of Scarlett Sky and Athena High '96 by Cameron Secord.

This year Matt partook in supporting Live Bait Theatre's Social Distancing Play Festival by directing The Deserted Island by Erin Bardua based on the comedic opera by Hadyn. He also stage-managed and designed Loyalist City Shakespeare's production of The Complete Works of William Shakespeare (abridged).