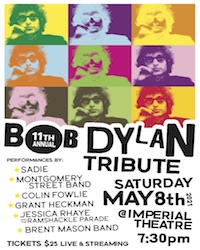 The 11th Annual Bob Dylan Bash
When
Occurs on Saturday May 8 2021
Approximate running time: 1 hour and 30 minutes
Venue
Event Notes
×
The 11th Annual Bob Dylan Bash
Saturday, May 8, 2021 at 7:30pm
Tickets: $25.00
Description: As the Bard of Hibbing enters his 80th year, some of the region's finest song writers and musicians will gather once again to pay tribute to Bob Dylan. For more than a decade this tribute show has played to sold out audiences in southern New Brunswick. It's an exciting development to have it presented in one of the finest theatres in all of Canada. Expect some special moments- if you're a Dylan fan, or a fan of great music, this one is not to be missed.
Brent Mason is a well known, award winning songwriter and musician from Saint John, NB. He's released 11 records and toured the UK, Canada andthe US, and continues to host the longest running open mic in the FreeWorld at Oleary's on Wednesday nights. He started the Dylan tribute as a one-off to celebrate Bob's 70th birthday, and here are 11 years later!
The Montgomery Street Band is Jason Flores (upright bass), Patrick Gushue (Mandolin/Fiddle), Scott Michaud (Banjo) and Liam Keith-Jacques (guitar/dobro). These New Brunswickers have dedicated themselves to carrying on the folk music traditions of the Maritimes. Along with masterful instrumentation, the band mates also take turns leading vocal harmonies. These avid street performers boast an extensive catalogue of old time music while also incorporating the blazing tempos and dynamic energy of a fully fledged jam band.
Sadie is a bottle-rocket artist from Saint John, New Brunswick. Since playing with Saint John-based bands NVN, Regardless, Bad People, and Subtle, Sadie has recently emerged as a powerful folk-rock grunge/dream pop solo act. Sadie has performed at POP Montreal, Shivering Songs, Quality Block Party, Evolve, and E2L Jam. She released her debut single, "Popcorn", in November 2020 through Saint John's Monopolized Records.