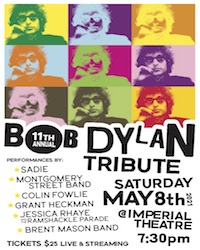 The 11th Annual Bob Dylan Bash
When
Occurs on Saturday May 8 2021
Approximate running time: 1 hour and 30 minutes
Venue
Event Notes
×
The 11th Annual Bob Dylan Bash - LIVESTREAM
Saturday, May 8, 2021 at 7:30pm
Tickets: $25.00 --
To view the livestream, only one ticket is needed per household.
Description: As the Bard of Hibbing enters his 80th year, some of the region's finest song writers and musicians will gather once again to pay tribute to Bob Dylan. For more than a decade this tribute show has played to sold out audiences in southern New Brunswick. It's an exciting development to have it presented in one of the finest theatres in all of Canada. Expect some special moments- if you're a Dylan fan, or a fan of great music, this one is not to be missed.
The digital performance will premiere live at the scheduled show time. It is not On-Demand and cannot be viewed at any other time.
HOW TO WATCH:
1.
Login
to your Imperial Theatre Online account.
2. Click on 'Tickets for Upcoming Performances'
3. Click the blue 'Watch' button and enjoy the show!