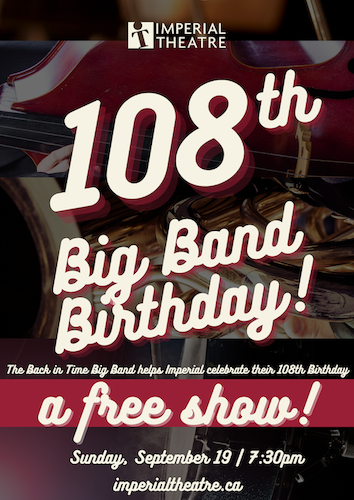 108th Big Band Birthday!
When
Occurs on Sunday September 19 2021
Approximate running time: 2 hours
Venue
Event Notes
×
108th Big Band Birthday!
Imperial Celebrates 108 Years: A Community Concert
Sunday, September 19, 2021 at 7:30pm
Tickets: FREE (tickets are complimentary, but you must complete the checkout process to reserve your seats)
Description: Imperial Theatre's 108th Birthday Party featuring the big band music of the Back in Time Big Band.


The Back in Time Big Band, an 18-piece swing-era style ensemble, formed in 2017 when some members of Saint Mary's Band (Saint John's community concert band) gathered to play various styles of popular music of the 20th century.