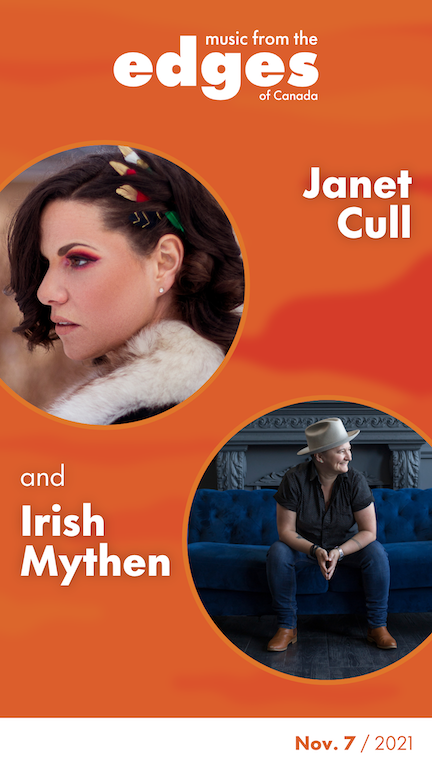 Livestream - MFE: Janet Cull + Irish Mythen
When
Occurs on Sunday November 7 2021
Approximate running time: 1 hour and 30 minutes
Venue
Event Notes
×
LIVESTREAM
Music from the Edges presents
Janet Cull + Irish Mythen
Sunday, November 7, 2021 at 7:20pm
The digital performance will premiere live at the scheduled show time, but can be viewed for 48 hours afterwards.
Tickets: $28 | $100 early bird Series Pass for entire streaming series (11 shows!) | $123 after October 28 for entire streaming series (11 shows!)
To purchase a Series Pass, click
HERE
Description: Janet Cull – Soul music dynamo from St. John's Newfoundland The question of what constitutes great soul music has been endlessly debated for decades. But what's been proven by now is that it's the domain of any artist, regardless of where they're from, who can completely reveal themselves through their music, to the point where listeners feel a connection far deeper than mere entertainment.
There are many other ways to describe Janet Cull's third full-length album Hear It, but at its heart it is a reflection of her (and our) often complicated relationships, expressed through a voice unlike any other in Canada. Having firmly established her reputation up to this point in her native Newfoundland—where she has been honoured with multiple MusicNL Awards—Janet is now poised to make her mark everywhere else with 12 songs that one could be forgiven thinking were recorded in Memphis or Muscle Shoals in the early '70s.
Irish Mythen is roots/rocker hurricane-in-a-tiny-package from Prince Edward Island (by way of Dublin)
HOW TO WATCH:
1.
Login
to your Imperial Theatre Online account.
2. Click on 'Tickets for Upcoming Performances'
3. Click the blue 'Watch' button and enjoy the show! "This Island creates music and musicians, art and artists. I found a shift to take things more seriously when I moved here." And she did just that.
Her latest release, Little Bones, gained her recognition around the globe, including a 2020 JUNO nomination for Contemporary Roots Album of the Year, seven Music PEI 2020 nominations and two wins — Touring Artist of the Year and Roots Contemporary Recording of the Year, and a Canadian Folk Music Nomination for Solo Artist of the Year. Her previous self-titled album, Irish Mythen, garnered awards and nominations from Music PEI, East Coast Music Association, Folk Alliance International and SOCAN. Write-ups in Australian Guitar Magazine, Rollingstone and a plethora of other print and online media world wide have helped plant Irish firmly on the map of Must-See Artists.
Irish's live performances are a thing of raw power, emotion and a connection with her audience that just has to be seen to be believed