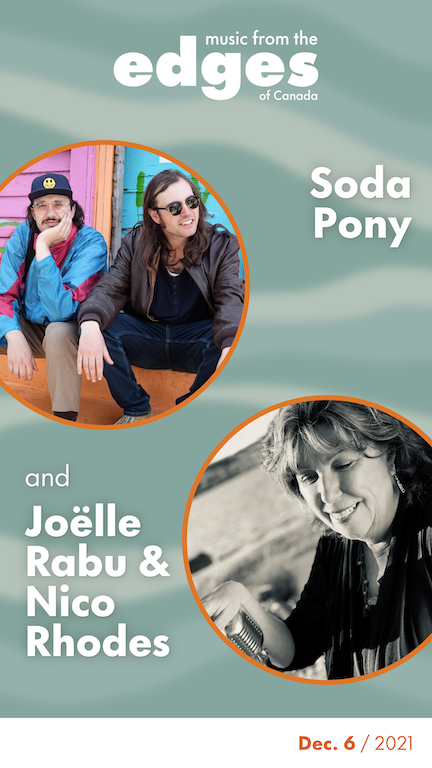 Livestream - MFE: Soda Pony + Joelle Rabu & Nico Rhodes
When
Occurs on Monday December 6 2021
Approximate running time: 1 hour and 30 minutes
Venue
Event Notes
×
LIVESTREAM
Music from the Edges presents
Soda Pony + Joelle Rabu & Nico Rhodes
Monday, December 6, 2021 at 10:30pm
The digital performance will premiere live at the scheduled show time, but can be viewed for 48 hours afterwards.
Tickets: $28 | $100 early bird Series Pass for entire streaming series (11 shows!) | $123 after October 28 for entire streaming series (11 shows!)
To purchase a Series Pass, click
HERE
Description: Incredible musicians, wonderful entertainers! Infamous folk artist RICK SCOTT and young keyboard wizard NICO RHODES combine forces in an inter-generational smorgasbord of roots, blues, jazz and humour.
Forty years apart in age, Rick and Nico blur all boundaries: in a word, they cook! ROOTS & GROOVES is a musical conversation spiced with mastery, mischief and improvisation. Since launching this duo in 2017, Rick and Nico have amazed audiences with their musical alchemy in theatres, festivals and folk clubs around BC.
West Coast Celtic Roots band Tiller's Folly has been telling tales as old as time with a modern lyrical twist, and a penchant for stirring tales of intrigue and adventure, inspired by true-life heroes and villains – backed by their potent mix of acoustic Celtic-influenced roots sound.
Across nine albums Tiller's Folly has united communities across the globe with songs steeped in Scottish, Irish and Canadian west coast tradition.
Indeed, the Tiller's Folly live experience is where the talented trio truly shines, having performed to thousands over the journey at major festivals throughout the US, Canada and the UK.
HOW TO WATCH:
1.
Login
to your Imperial Theatre Online account.
2. Click on 'Tickets for Upcoming Performances'
3. Click the blue 'Watch' button and enjoy the show!