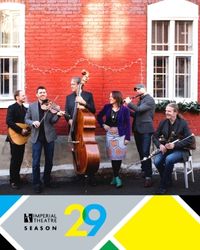 Lunasa
When
Occurs on Saturday February 11 2023
Approximate running time: 1 hour and 45 minutes
Venue
Event Notes
×
Lúnasa
Saturday, February 11, 2023 at 7:30pm
Tickets: $42.50 admission / $37.50 members
Description: Named for an ancient Celtic harvest festival in honour of the Irish god Lugh, Lúnasa was formed in 1997 from members of some of the greatest Irish groups of the previous decade, an early review from Folk Roots magazine describing the band as an "Irish music dream team". From the start, the band's complex arrangements and unique sound reshaped the boundaries of traditional music and energized audiences the world over. Critical acclaim followed, The Irish Echo describing the band as the "the hottest Irish acoustic band on the planet"; MOJO magazine named the band "the new gods of Irish music," adding that "nobody since the Bothies has wielded such a thrilling rhythmic underlay." Billboard raved that "anybody who listens can't help but find them contagious."
Having since sold over a quarter of a million records and performed over 2,000 shows across 36 countries, Lunasa has won multiple awards and become one of the most influential bands in the history of traditional music. Collaborations with singers Natalie Merchant, Mary-Chapin Carpenter, and Tim O'Brien and high-profile concerts at The Hollywood Bowl, New York's Carnegie Hall, Glastonbury Festival and Bercy Arena Paris helped broaden the band's audience and cement its place at the forefront of contemporary Irish music.
Lúnasa's current lineup features: Trevor Hutchinson, who achieved fame as the bassist with the The Waterboys: piper Cillian Vallely was a member of Riverdance and recorded with Bruce Springsteen: Flute player Kevin Crawford, considered one of Ireland's greatest flute players, was a member of Moving Cloud: award-winning fiddler Sean Smyth, who performed with Donal Lunny's legendary Coolfin and accordionist Alan Kelly; Colin Farrell is a multiple award winning fiddler, who has toured with Project West, Grada and Michael McGoldrick: Guitarist Ed Boyd made a name for himself in the UK folkscene with bands such as Flook, Kate Rusby, and Cara Dillon.
Currently the band is touring their most recent cd, "Cas". Released in the spring of 2018, the album breaks new ground for the band, and features for the first time guest singers.
"This album is brilliant with a capital B……a new feather in the cap of the talented and influential musicians we know and love as Lunasa" - Irish American News