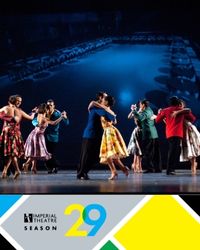 Social Tango Project
When
Occurs on Thursday April 13 2023
Approximate running time: 1 hour and 10 minutes
Venue
Event Notes
×
Social Tango Project
Thursday, April 13, 2023 at 7:30pm
Tickets: $45 admission / $40 members
Description: The story of Argentine Tango told by dancers and musicians.

Tango, a social dance, enables people of different ages, cultures, and backgrounds to meet in an "embrace." Through the dance they can express themselves creating a deep connection with their dance partner and also with a community. Social Tango is a project that encourages the audience to make this dance their own. It is an active and immersive experience.

Be it the music, the beauty, or the sense of connection, tango has won the hearts of dancers around the world. Originating in the 1880s along the Rio de la Plata, the natural border between Argentina and Uruguay, the dance form has since spread to the rest of the world. Across cultures and generations, this conversation between bodies enables people to meet in an "embrace". From Buenos Aires, dance company Social Tango Project, will tour Canada for the first time in 2023 bringing their lively and passionate dance to us.