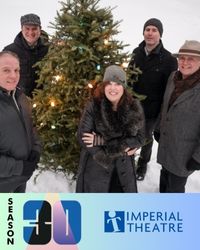 The Barra MacNeils: An East Coast Christmas
When
Occurs on Wednesday December 20 2023
Approximate running time: 1 hour and 45 minutes
Venue
Event Notes
×
The Barra MacNeils: An East Coast Christmas
Wednesday, December 20, 2023 at 7:30pm
Tickets: $57.50 adult / $52.50 member
Description: Canada's Celtic ambassadors! For more than three decades, Cape Breton-based family group the Barra MacNeils has been thrilling audiences of all ages, near and far, with their sparkling repertoire, vocals, instrumental prowess and vibrant showmanship.
The MacNeil siblings are from Cape Breton Island and began performing together in 1980 while still teenagers (Lucy MacNeil being only 10 years old). Consequently, they were only able to perform on weekends, and toured during school holidays. The siblings are classically trained musicians and alumni of Mount Allison University.
In 1986, they released their first eponymous album on their own independent label. The Barra MacNeils won their first East Coast Music Award in 1991, and have won four more since, including a Juno Award for Album of the Year for TimeFrame in 1992, and a Group of the Year award in 2001. They signed with PolyGram, and their first two albums were re-released while their 1993 album Closer To Paradise earned a gold record.