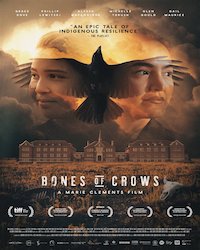 TIFF: Bones of Crows (2022)
When
Occurs on Tuesday January 30 2024
Approximate running time: 2 hours and 4 minutes
Venue
Event Notes
×
TIFF: Bones of Crows (2022)
Tuesday, January 30, 2024 at 7:00pm
Tickets: $12.50
Rating: unrated / Country: Canada / Languages: English, Cree, ʔayʔajuθəm, Italian
Description: Born in the 1920s into a happy, large family, Aline Spears and her siblings are forcibly removed — through threat and essentially extortion by church and local authorities — from their home and sent to residential schools. There, they are victims of the cruelty of the priests and nuns who run the school. As the film clearly and dramatically points out, this psychological, physical, and cultural abuse was basically official government policy.
During World War II, Aline enlists in the military, where, in a great but not widely known historical irony, her contribution is highly valued precisely because she is still fluent in Cree — one of the languages the residential schools strove to eradicate. After the war, Aline returns to Canada to raise her children. Still haunted by the crimes committed against her, she endures years of anguish before she finally has the chance to confront her abusers.
Fearless in its denunciation of centuries of oppressive policies by Canadian governments and institutions, Bones of Crows is also a memorable paean to the resilience and determination of those who survived the residential schools — and especially those, like Aline, who sought to bring their oppressors' crimes to light.
Content advisory: content relating to residential schools; child abuse, sexual and psychological abuse, racism.
This programme contains scenes that may distress some viewers, especially those who have experienced harm, abuse, violence, and/or intergenerational trauma due to colonial practices.